Funding Your Business – From 'Cradle to Grave'..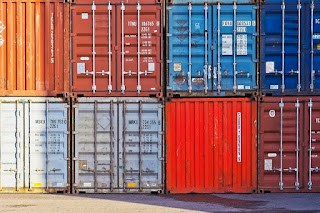 I'm not on this occasion talking about funding premises for an early years' childcare business, or a 30 bed elderly care home – but if you are looking for that then my e-mail is at the foot of this Blog!
A lot of companies start their trading process with either an order from a client that they have to fulfil or having to 'stock up' on the goods that they sell, because customers will expect a quick delivery after they make a purchase.
Depending on the nature of their business, companies will either buy raw materials that they manufacture or assemble to create finished and saleable goods, or they will purchase 'finished goods' from a manufacturer or supplier – packaged and ready for delivery to their customers.
At this initial stage of their process how they fund the purchase of goods or materials has to be thought through, in combination with how they will get paid when they sell to their customers; therein lies the analogy of 'cradle to grave' in terms of a company's trading process.
Trade Finance can be used to fit a wide range of business types:
o Purchase raw materials or finished goods
o Trade can be with UK based companies as well as overseas
o Commonly Trade Finance lenders are also experts in FX
o Goods can be pre-sold, or to provide a stock for sale
Your business can improve prices and terms from having the backing of a Trade Finance facility and being able to pay earlier, and Trade Finance facilities can be flexible to accommodate deposits if required on order and other costs including import VAT and shipping/freight if these are applicable to you.
In the current environment, where companies are dealing with prices rising in their supply chain, delays in receiving their orders and inflated freight and transport costs, working capital can become strained without much notice.
Funding the acquisition of goods or materials that are either pre-sold or to provide you with stock leaves crucial cash in the business to cover overheads and unexpected demands on the company.
The following are just general illustrations of how Trade Finance can work for a business – and also how you could be covered from 'cradle to grave' with Invoice Finance after you have sold your goods: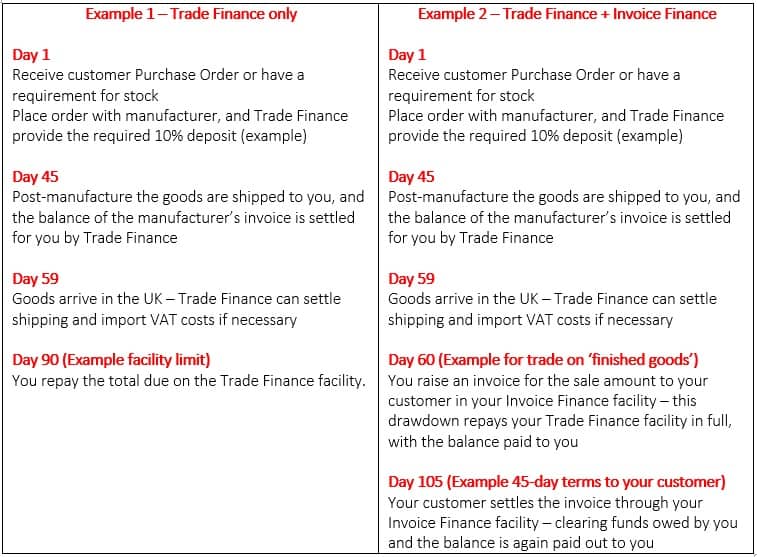 Many Trade Finance lenders offer Invoice Finance facilities to their clients for good reason – because they can then offer your business a seamless process without causing a large cash call on the company at any stage of your trading lifecycle.
It of course depends on the nature of your business as to whether Invoice Finance is suitable for how you deal with your customers – but if it is suitable then Example 2 demonstrated that you could complete the entire transaction without any significant draw on your cash flow.
A common objection to both types of finance is the cost of the facility and funding these transactions; beyond the fact that lenders that we work with offer extremely competitive rates on their facilities, I would suggest that these are a great example of the ends justifying the costs of the means.
The cost of funding will slightly reduce your margin on the transaction – but with very little effect on working capital, and consequently you are still able to meet other demands that you face – as well as to fulfil any opportunities that are presented to you.
We understand that every step of 'getting stock' to 'getting paid for stock' can be a drain on your cash flow that you might not be able to afford without funding support – and possibly an opportunity cost if it leaves you unable to take up new opportunities.
If you have a supply chain, and supply customers, why not talk to us about where the 'pinch point' is for cash flow in your business on your road from cradle to grave?
Mark Grant, February 2022.