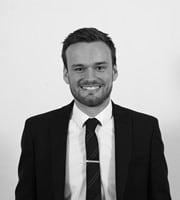 On this episode of the pension and investments podcast, we're talking all about Wealth Management with Dominic from Fiducia Comprehensive Financial Planning.
The Internet Is Not A Secure Medium And The Privacy Of Your Data Cannot Be Guaranteed.
keyboard_arrow_leftPrevious
Nextkeyboard_arrow_right
What is Wealth Management and why is it so important?
Wealth Management is a sort of a subsection of financial advice. It's an area within financial advice, where ongoing help and advice is provided to clients. This includes making sure that any investments or plans that we have in place are working for the long term, because everything we do is based on a long term vision.
Investing for example, if we're investing to make as much as possible in the next 3 months Wealth Management is probably not the right path for you, we work clients towards their long term goals. Wealth Management is simply making sure that everything's investment performance stays on track, accommodating for changes in your personal circumstances, or the wider financial environment.
Who can benefit from Wealth Management?
Anyone who's got long term financial plans, because they're the ones that are looking to benefit from advice. We don't give specific tax advice but we happily work with various solicitors and accountants to make sure that our recommendations are right for the client from a tax perspective.
What exactly is included in Wealth Management?
Wealth Management can be broken down into its own subsections. Estate planning, for example, which primarily looks at inheritance tax and legacy. It is surprising how an inheritance tax liability can affect everyday people as well as the ultra wealthy.
One of the main ways we engage with solicitors is to talk about trusts. Trusts are just a way of making sure that your wishes are carried out, either in the event of death or if there's another reason to create that Trust. We work very closely with solicitors to make sure that everything's in place from the investment side of things.
Retirement planning is another area where it's vital to make sure that plans are still on track. Retirement makes up a large proportion of people's lives, that they've worked their entire life for to enjoy, and we don't want people to run out of money. Wealth Management and the ongoing relationship is vitally important in this area.
We don't give specific tax advice, but when we talk about tax planning, we ensure that you are realistically using allowances set by HMRC, and investing for tax efficiency.
What are the costs involved with Wealth Management?
Our baseline figure is about 1.205% of whatever's under management. This is for investments, pensions, and you get regular reviews with an adviser, access to our knowledgeable admin team. Cost is a key consideration for people, but it's invaluable when we're talking about making sure that financial goals are met in the long term.
As wealth managers and financial advisers, our job is to improve your knowledge of finances as well. We expect that as we speak to you, your understanding of your investments and your finances as a whole will grow over time. People who understand their finances better tend to make better financial decisions in the long term, which is why the ongoing services are invaluable.
Is there anything else to consider about Wealth Management?
We like to remind our Wealth Management clients that there's no need to wait until the next review, they can give us a call anytime with questions. Why not benefit from this service as often as you'd like.
The value of investments and any income from them can fall as well as rise and you may not get back the original amount invested.
HM Revenue and Customs practice and the law relating to taxation are complex and subject to individual circumstances and changes which cannot be foreseen.
Why choose Fiducia Financial Planning?
Why choose Fiducia Financial Planning?